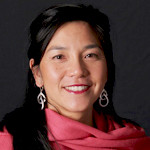 Independent Consultant & President

, Chiange, Inc.
Belgrade, MT
|
|
Consulting Since:

2004
Leaders seek out Pamela when they find themselves stuck in patterns that prevent their greatest potential from occurring. She describes herself as an "organizational acupuncturist" by creating the conditions for leaders to gain insights and take actions that tap the imagination and energy needed for breakthrough results. She specializes in organizational visioning, culture change, team alignment and leadership development.
Pamela understands the challenges and possibilities of building the organizational cultures necessary to generate structural and meaningful improvements to a democracy that values all people and protects the earth. She cut her teeth as an organizer and leader in the environmental justice movement of the 1990s. With over 25 years of experience she has become adept at aligning people from diverse racial, cultural, gender, generational and geographic experiences towards common purpose. Motivated to expand the effectiveness of the progressive sector, she masterfully coaches, trains and facilitates leaders be more successful agents of change.
Pamela is a coach with the Rockwood Leadership Institute, a trained mediator, and holds a BA in environmental science from the University of California at Berkeley. When she is not working with clients she is the mountains and foothills of Montana repairing barbwire fences, moving cattle on horseback with her husband and children, and sequestering carbon in the soil by
resuscitating farm and grass lands through intensive grazing management practices.
Additional Affiliations: Rockwood Leadership Institute - coach, RoadMap - consultant & coach
Selected past clients: Center for Community Change, William & Flora Hewlett Foundation, Ohio Organizing Collaborative, People's Action, senior leadership teams of various National Parks in the US.
Consulting Details
Client Geographic Scope
Sectors & Issues
Specialty Constituencies
Client Types
Organization Budgets