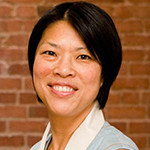 Consultant, Facilitator and Coach
San Francisco, CA
|
Cohort: October 2013
|
Consulting Since:

2001
Viveka Chen is an organizational development consultant, certified coach, facilitator and trainer. For over twenty years she has worked for social justice across a spectrum of cultures, communities, movements and sectors. She specializes in leading through change and conflict, leadership transition, visioning, strategy, theory of change, alliance building, developing learning communities, and designing and implementing leadership development and capacity building initiatives. She is currently experimenting with social innovation methods and racial equity leadership development cohort programs.
Viveka brings a commitment to cultural awareness and a strengths-based approach. She is affiliated with RoadMap, CompassPoint, and Movement Strategy Center and a Plan and Organizational Consultant with the Evelyn and Walter Haas Jr. Flexible Leadership Award Program. She co-founded Coaching for Justice, a multi-racial/generational group of certified coaches committed to increasing access to high-quality coaching for social change leaders and non-profit staff.
Viveka is also an ordained Buddhist teacher who can readily weave spirit into her work. She lives with her Puerto Rican husband in San Francisco, CA.
Additional Affiliations: CompassPoint Nonprofit Services Affiliate Consultant, RoadMap core consultant, Haas Jr. Fund, Flexible Leadership Award Program, Plan Consultant, Movement Strategy Center Affiliate Consultant
Selected past clients: Partnership for Working Families, Neighborhood Funders Group - Project Phoenix (economic justice funder learning cohort), Casa Latina (worker center executive transition), Asian Americans Advancing Justice - Asian Law Caucus (SF), PICO CA, CoreAlign
Consulting Details
Client Geographic Scope
Sectors & Issues
Specialty Constituencies
Client Types
Organization Budgets