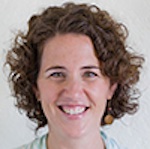 Former Executive Director Texas Organizing Project,
Houston, TX @GinnyGoldman1
Ginny Goldman is the former Executive Director of the Texas Organizing Project and Texas Organizing Project Education Fund, which she founded in 2009.. TOP and TOPEF conduct strategic, year-round community organizing centered on issue-based campaigns, and engage thousands of low-income, minority voters during election cycles. Prior to founding TOP, Ginny directed the Texas chapter of ACORN. Before moving to Texas, she worked as an organizer in Chicago where her work contributed to reforming the lending practices of a neighborhood bank that was discriminating against minority borrowers, and to cleaning up a contaminated industrial site in a Latino residential area. She holds a BA in American Studies from the State University of New York at Buffalo and is fluent in Spanish. Ginny lives in Houston with her husband Ross Fitzgerald and their two sons, Jack and Edward.